Hi gang! My  1 Year Blogoversary is coming up in a month or so, but I got the giveaway bug and wanted to do a little giveaway for all of you that have made this blogging thing so darn fun! I've got 2 sets of 3 books up for grabs: A Sandra Hill package for my romance readers, and an Urban Fantasy/Paranormal package too! Check out the pretty pictures, read the giveaway deets, and good luck!
Oh, and I did say thanks, right? Cause you guys rock:)
Urban Fantasy/Paranormal Prize Package:
Faery Moon by P.R. Frost
Kitty's Big Trouble by Carrie Vaughn | REVIEW
Sexiest Vampire Alive by Kerrelyn Sparks

Sandra Hill Historical Romance Prize Package:
The Norse King's Daughter
The Last Viking
Truly, Madly Viking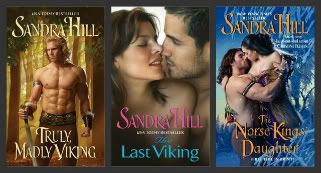 **GIVEAWAY DETAILS (US/Canadian addresses ONLY)**
Giveaway has ended! Thanks to everyone that entered!