I've got 4 winners to announce tonight!
Up first is the winner of my MFT Grand Prize Giveaway!
Congrats to:
Christine Davis!
Christine was the big winner, but there were so many of you who generously donated to help with the shipping costs, and I can't stress to you enough how much your contribution is appreciated!
Next up are my Beauty Queens Winners!
Congrats to:
Vivian and SarahM
And last but not least my winner for The Hollow by Jessica Verday:
Congrats to:
Felicia Chien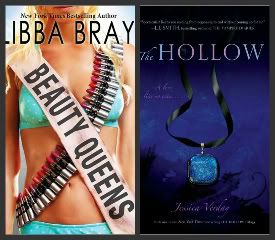 Winners were chosen using Random.org and have been notified. Thanks to everyone that entered!