Joining me today is the super-talented Adrian Phoenix, author of the Maker's Song series, and the brand new Hoodoo series! She's also generously offered a *Signed* copy of Etched in Bone (Maker's Song 4) and winner's choice of one of the other 3 Maker's Song novels!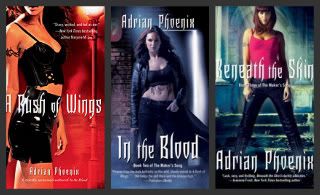 Giveaway is now closed! Thanks for entering!
Please welcome Adrian to the blog!
MBW: Etched in Bone, the most recent installment in the Maker's Song series (one of my faves), just came out on Feb. 22nd, can you tell us a bit about the series, for those that haven't read it?
Adrian: I'd love to. First, thanks so much for having me here! I'm thrilled to have the opportunity to hang out with you and your readers. All right, now for a bit about the series. The storyline revolves around FBI special agent Heather Wallace and nightkind (vampire) goth rock star Dante Baptiste, their deepening and sensual relationship and the mystery surrounding Dante, his past, and his destiny. As Paul Goat Allen (moderator of the BN.com online paranormal & urban fantasy book club) put it: "And he isn't just a run-of-the-mill vampire, he's the son of the fallen angel Lucien and he's a Creawdwr, a maker, an extremely rare being with the godlike abilities to create or destroy. And on the run from a government agency known as the Shadow Bureau, he just may be losing his mind."
MBW: Do you have an idea of how many books you'd like to write in the Maker's Song series?
Adrian: I really don't have a set number of books in mind. I love this series and these characters – they are very real to me – and I'd love to tell their stories and adventures forever.
MBW: I recently finished Black Dust Mambo(Hoodoo Series Book 1), and just loved it! If it was made into a movie, who would you want to play Kallie?
Adrian: Thank you! I'm so glad you enjoyed it! And that's a good question! I can't think of an actress who could play fiery Cajun Kallie (and she's of mixed descent), but maybe your readers can suggest someone.
MBW: Black Heart Loa, the second book in the Hoodoo series, comes out the end of June. Can you give us a teaser?
Adrian: Sure! In this book, Kallie searches for her missing bayou pirate cousin and finds out the hard way that someone is undoing powerful gris-gris, which means that magic has become as unpredictable as rolling a handful of dice. She also learns that the wards woven to protect the Gulf coast are unraveling, leaving New Orleans and the surrounding bayous vulnerable just as the deadliest storm in a century is born.As the hurricane powers toward the heart of all she loves, Kallie desperately searchesfor the cause of the randomness, only to learn that the culprit might be herself. To protect her family and friends, including the sexy nomad Layne Valin, Kallie steps into the jaws of danger and finds a loup garou designed to steal her heart—literally.
MBW: Is there anything you absolutely need to have handy (besides coffee) in order to write?
Adrian: Coffee is definitely the biggest, but music is a close second. From Nine Inch Nails to Anders Manga to C.C. Adcock, and movie scores, music keeps the creativity flowing. So does my little furry office supervisor, Diabla. She's one of my three cats, and she's the only one who hangs out in the office with me (I think she staked her territory) and she'll often lead the way to the office when it's time to write. LOL.
MBW: When you're not writing (or running Zombie Preparedness drills), what do you like to do to unwind?
Adrian: You can never have enough zombie preparedness drills. LOL. I LOVE to read or watch a movie or hang out with friends.
MBW: You mention favorite authors on your website, how about favorite movies?
Adrian: Oh, I LOVE movies! Okay, here goes: The last Samurai, Gladiator, all of the Lord of the Rings movies, The last of the Mohicans, The Four Feathers, Batman Begins, The Dark Knight Returns, The Mummy, Moulin Rouge, Desperado, Interview With the Vampire, Lost Boys, all of the Underworld movies, Shaun of the Dead, The Crow, Brotherhood of the Wolf, Aliens, The Thirteenth Warrior (love!), The Terminator, The Others, Big Trouble in Little China, Escape from New York . . .
MBW: If you could live anywhere in the world, where would it be, and why?
Adrian: Y'know, this question is tougher than I thought it would be at first glance. Of course I'd love to live in New Orleans, would love to have a French Quarter apartment. And that's something I hope to do some day. But I would also enjoy having a vacation place on the Oregon coast (Lincoln City or Depoe Bay) and I'd love to have a place in the English countryside. In my wild fantasies, I'd be able to afford all three! LOL.
MBW: Is there any news about upcoming projects you'd like to share with us?
Adrian: My publisher, Pocket, has picked up books five and six of The Maker's Song and I'm working on book five right now, On Midnight Wings. I also hope to have more Kallie books coming out and maybe a new urban fantasy project as well.
MBW: Thank you so much for taking the time, Adrian! It was a pleasure!
Adrian: Thank YOU! It's been my pleasure, for true!
You can read a chapter from the book that started it all.
With Book Four, Etched in Bone, Dante faces his destiny and searches for a way to accept it on his own terms. To make his life, his own, at long last, and with Heather at his side. The former FBI agent is more than his partner and lover, she is also his anchor, his beacon, guiding him back from the edge of madness when his shattered past rises up and swallows him. But in Heather's human family awaits an unexpected enemy. One who could force Dante to choose his darkest destiny—as the Great Destroyer.Here's a link to the first two chapters of Etched in Bone.
Etched in Bone is also a featured read for March on BN.com's Paranormal and Urban Fantasy Book Club – which I'm very excited about.
Andhere's a linkto the first chapter of BlackDust Mambo
Thanks so much for having me! It's been a blast!
Website My blog Facebook Facebook Fan Page Twitter MySpace Goodreads
Dantes Club Hell Forums