Recently I asked the super talented Jess Haines, author of Hunted by the Others, Taken by the Others, and Deceived by the Others to answer a few questions for me. She was gracious enough to do so, AND offer up
SIGNED copies of Hunted, Taken, and her new paranormal romance anthology Nocturnal
to one lucky winner!
**Giveaway is now closed**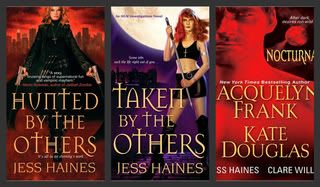 Please welcome Jess to the blog!
MBW:I'm sure your readers would love to know a little more about the woman that created the super-fun Shiarra Waynest. Can you tell us a little about yourself and your background?
Jess Haines: Sure! I love coffee and chocolate, and can't survive without books. I'm originally from New York , but I'm currently living in Los Angeles because it is suitably weird enough for the time being. I enjoy karaoke and bad movies, and have a menagerie of animals to keep me company when I'm not writing. (Seriously, when I'm an old fart, I'll be known as the crazy bird/cat/fish/snake/lizard lady.)
As for my background? I have worked office jobs from the bottom to the top of the corporate food chain. I've spent far too much time in the field of law. I'm proud to call myself a gamer geek, and probably would have wormed my way into that industry eventually if I hadn't turned myself into a Real Life™ Author.
MBW: For those that haven't yet read Hunted by the Others, can you tell us a little bit about it?
JessHaines: Absolutely! HUNTED BY THE OTHERS is the first novel in the H&W Investigations series, and is all about how the human heroine, Shiarra, gets herself into otherworldly trouble. She's a private investigator who is on the verge of losing her business, and is offered a temptingly lucrative job by a mage coven. All she has to do is confront New York 's oldest, most powerful vampire to find out where he's hiding a magic artifact. Simple, right?
Yeeeeah. Being phobic of vampires doesn't help her much. Added to her troubles is her mother trying to set her back up with her ex-boyfriend (who happens to be a werewolf), a group of vigilante supernatural hunters threatening her to join them or die, and a snarky, sentient hunter's belt making fun of her lack of vampire hunting skills. Oh, and it appears that any supernaturals who come in contact with the artifact she's searching for wind up dead soon thereafter.
She's really not having a good day.
MBW: I thought it was really unique to make Shiarra "normal" and not supernatural. In a sea of novels featuring otherwordly heroines, what made you decide to make Shia human?
JessHaines: The answer is in your question. We've already got a sea of not-quite-human heroines out there—Sookie Stackhouse, Anita Blake, Rachel Morgan, Mercy Thompson, just to name a few of the big shots. I thought it would be interesting to come at it from a different angle. What about someone who doesn't have the extra edge of mindreading, raising zombies, using magic, or shape-shifting? Just doing my part to spice up the urban fantasy selection out there!
MBW: I noticed in your bio that you were a technical writer. Did you always want to write fiction, or did you fall into it?
JessHaines: Technical writing pays the bills. Writing fiction keeps me sane. *g*
MBW: Are there any particular writers or books that have inspired you?
JessHaines: Abso-friggin'-lutely! I'm a huge fan of Stephen King, whose work encouraged me to think outside societal norms. Bill Watterson (Calvin and Hobbes) taught me that imagination coupled with humor knows no bounds. Janet Evanovich taught me that sometimes the hero doesn't start out special or strong or talented, but becomes that way over time. Laurrell K. Hamilton introduced me to urban fantasy and first planted the idea that I could get something published in the genre, too. Jim Butcher, and Kim Harrison taught me that a sense of humor in fantasy was not only okay, but something to strive for. Lastly, but certainly not least, Greg Costikyan taught me that you don't have to reinvent the wheel in fantasy to create a worthwhile and engaging story.
There are many other books and authors that have touched me in some way, but I think those cover a lot of the bases.
MBW: What things do you absolutely HAVE to have in order to write?
JessHaines: Coffee, chocolate, and a dictionary.
Oh, and a computer. I can't write anything by hand to save my life, and I lose my notes if they aren't in electronic format

.
MBW: When you're not writing, what do you like to do to unwind?
JessHaines: Ha! Writing is what I do to unwind, believe it or not. However, I do like to spend time with my friends, watch cheesy movies, read good books, surf the internet, and cook. Every once in a while you might catch me wandering around town, stopping at a coffee shop or browsing the book store. I also love to roleplay, which I've done both online and off. I'm hoping one day when my schedule is not so wacky, I'll be able to start up another epic AD&D campaign or reopen my World of Warcraft account!
MBW: For those that have read Hunted, but haven't yet read Taken, can you give us a teaser?
JessHaines: Surely! Here is the back cover copy:
Jess Haines draws readers deep into the mesmerizing world of the Others–werewolves, vampires, and mages who make their home among humans, and are turning Shiarra Waynest's life upside down…
Once, New York P.I. Shiarra Waynest's most pressing problem was keeping her agency afloat. Now she's dealing with two dangerous, seductive vampires who have been enemies for centuries. The only thing Max Carlyle and Alec Royce agree on is that they both want Shia–for very different reasons.
Max is determined to destroy Shia for killing his progeny, while Royce's interest is a lot more personal. That's not sitting well with Shia's werewolf boyfriend, Chaz. As the feud between Max and Royce gets ever more deadly, a powerful vampire-hunting faction is urging Shia to join their side. Shia has always believed vamps were the bad guys, but she's discovering unexpected shades of grey that are about to redefine her friends, her loyalties–and even her desires
…
A teaser snippet (from the inside front cover):
THE MOST DANGEROUS OF OTHERS
I tried to find the words to speak, to tell Royce to stop, but all I could manage was a feeble cry when he took hold of my wrists, pulling my hands off his chest and pressing them to the wall. He said nothing, simply studied me while that gibbering terror romping through my mind didn't want to acknowledge that he hadn't hurt me yet. It only wanted to focus on the fact that I was pinned, he looked ravenous, I was the only human in sight, and his fangs were literally inches away from some all too vulnerable parts of my body. Places where the blood runs hot and fast and close to the surface of the skin.
Why was he doing this? What did he want from me? Panic clawed at my throat, and as he leaned in, his lips brushing against the side of my neck, I found my voice again, letting loose with a shriek as I twisted away. He was going to bite me!
"I'd never hurt you," he whispered, his voice low and soothing. He didn't touch me save for the velvet soft brush of his lips against my skin, followed by the brief rake of fangs. Hinting at penetration, but never quite sinking in. It was enough to drag a little cry from my lips, too breathy to properly be called a scream. I thought I might just die of fright right then, closing my eyes and trying to remember how to breathe as my heart tried to pound its way out of my chest.
"You could stay young and beautiful and strong forever," Royce whispered. "With me. Think about it…"
MBW: You have an INSANE schedule of upcoming events! Can you tell us a little about your upcoming projects?
JessHaines: I know, right?! I don't know how I do it!
Over the next few months, you'll find interviews with and articles by me on various websites, including Guide to Literary Agents.
I'm writing an article for my local paper, and putting together guest posts for review bloggers who are fans of my work.
I'm also preparing for the release of book three in the series, DECEIVED BY THE OTHERS, which releases in July. Then, in August, I'll be heading to the Authors After Dark
convention where I can meet more fans, sign more books, speak on panels, and basically have a good time.
Then, of course, I have the books and whatnot I'm working on! Look for an anthology to come later this year called THE REAL WEREWIVES OF VAMPIRE COUNTY—think "Real Housewives of New York/New Jersey/Orange County/Beverly Hills/etc" reality shows with a supernatural twist—that will include a novella of mine. I'm also hard at work on books four, five, and six in the H&W Investigations series. Lastly, I've been poking and prodding at a paranormal romance novel set in the same world, but featuring different characters, that may or may not ever see the light of day.
Man, I get exhausted just looking at that list, hehe.
MBW: Finally, anything you'd like share with us that maybe most people don't know about you?
JessHaines: I am desperately afraid of riding on motorcycles.
Thanks again for having me!
**Giveaway is now closed**